Old buttons: trash
Do you have old buttons that you don't know what to do with? It can be a great decorating idea that could spice up your furniture!
.
Materials:
1) Buttons
2) A cup (Styrofoam/Plastic works the best)
3) Hot glue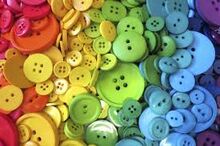 Directions:
1) Decide how you are going to decorate the cup; make a pattern (e.g.: rainbow, red-pink, blue-green, etc.)
2) Hot glue the buttons on the cup.
Enjoy your beautiful cup!