Plastic Bottles: Recycling
Do you have an amazing backyard that attracts birds and insects? This fun and simple DIY idea is great for people who love birds and the outdoors. Along with that this DIY also helps the environment by reusing materials.
Materials:
- 1 plastic bottle (with the cap)
- A knife
- Bird seeds
- A chopstick
Directions: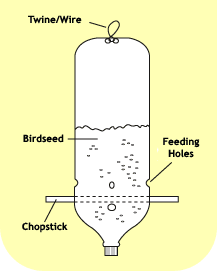 1) Twist the cap (which has been washed and dried completely)
2) Fill with bird seeds.
3) Take a plastic bottle and poke tiny holes using the knife.
4) Poke the chopstick into the bottle, so each side is even.
(See the picture for more details)