Bin: Trash
Have you ever had a dead, dry marker? Within a month of use your marker start slowly and surely drying out, leaving you with a worthless piece of plastic. But wait! Your marker's usefullness is not over yet. All you have to do is cut down your marker's ink cartridge.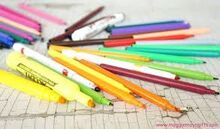 Materials:
Hot glue gun
Dry marker
Directions:
First, all you have to detach the writing tip of your marker. Tip: The tip of the marker should be re-attachable.
Inside the marker there is a tube of flexible fibers that are covered in a plastic liner. Take it out.
Continuously cut the fiber tube down, touch the front of it ever so often to see when the ink starts.
Attach the fibers to the writing tip with hot glue. Try not to cover the front, only glue around. Reattach the writing tip to the casing.
Your finished!